Steel Bar Grating is the workhorse of the industrial flooring market and has served industry for decades. Strong and durable with an exceptional strength-to-weight ratio,Grating Mesh can be easily fabricated to nearly any configuration. The high percentage of open area makes Grating Mesh nearly maintenance free and all products are fully recyclable.
BAR GRATING
Platform Steel Grating
Standard Grating Panels
Swage Locked Bar Grating
Drain Covers Steel Grating
Compound Steel Bar Gratings
Pressure Locked Steel Bar Grating
Safety Non-Slippery Metal Gratings
Fabricated Steel Grating Decking
Stainless Steel Bar Grates
Standard Steel Bar Grating Size:
Dimension: 2′, 3′ or 4′ wide by 20′ or 24′ long.
Bearing bars spacing: 1-3/16″ (19 space) to 7/16″ (7 space).
Bar thicknesses: 1/8″ to 1/2″.
Cross bar spacing: 4'' and 2''.
Bearing Bar Options:
Plain surface; Serrated surface; I-Bar(plain surface); I-Bar(serrated surface).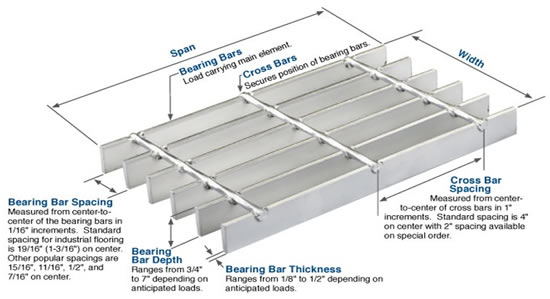 Compound Steel Bar Gratings
Compound or Composite Grating Panels are composed with Two Parts: Steel Grating and Anti-slippery tread plates. The steel grid grating offers load bearing and spanning capability. The anti-slippery tread plates as surface are made of diamond pattern checkered plate offering excellent slipping resistance.
This kind of bar gratings may deform going through the hot dipped zinc coating process. So heavy type steel bar with big gauge is normally chosen in making composite steel grid gratings.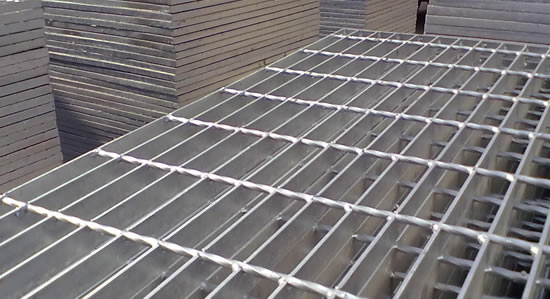 Pressure Locked Steel Bar Grating
Pressure Locked Metal Bar Grating is a system constructed of interlocking slotted bars bonded together using tremendous hydraulic pressue. The bars are positioned every 2 inch or 4 inch. Also known as press-locked bar grates. Permanent locking is achieved by forcing the deep cross bar into the bearing bar. Both the cross bars and the bearing bars provide walking surfaces in the press-locked design.
Pressure locked bar grate panels provide a smooth clean look ideal for architectural applications such as grilles, dividers and screens. It is used in the same structural applications as its welded steel and rectangular aluminum counterparts. Popular metal materials for press locked gratings are Aluminum alloy, Galvanized Steel and Stainless Steel. Stainless Steel and Aluminum Pressure Locked Gratings are mostly used architectural ceiling panels and decoration. Spacings range from 7/16" to 1-3/16".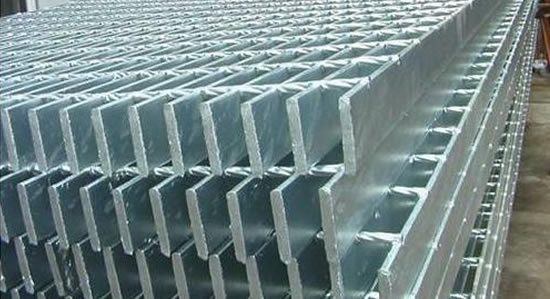 | | | |
| --- | --- | --- |
| | | |
| | Welded, Press-Locked, Swaged | Bare steel, Galvanized, Powder coated |
| | Press-Locked, Swaged, Flush Top, I-Bar | |
| | Welded, Press-Locked, Swaged | |