358 welded mesh fencing is treated with marine grade heavy plastic powder coating after galvanised. 8 to 10 feet height is common size for black powder coated steel 358 mesh, fitted with 11 feet length posts black powder coated and other fittings. Galvanized and green powder coating also available.

The type of mesh fence is anti-cut, anti-climb, water resistance powder coated with marine grade Plastic. Popular product is ½" x 3" 8 gauge galvanized, and ½" x 3" 10.5 gauge GAW plus heavy duty PVC coating. Wire: 4 mm, galvanized + powder coating. General installation height is 1.5 m.
358 Mesh Galvanized Steel of Epoxy or Polymer Coating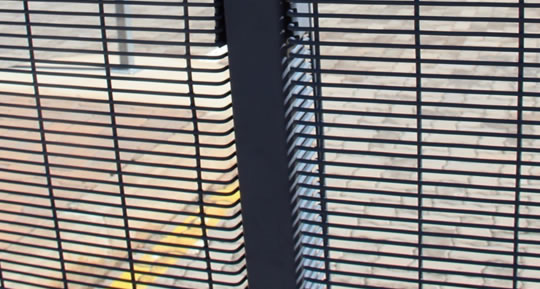 Inner aperture:72.2×8.7mm
Wire diameter:4mmm
Width: to 2.9m
Tensile of the wire: 600-750N/m2
Welded strength: 60%-80%
Height: up to 4.8m
Fence post: 80 x 60mm, 80 x 80mm or 120 x 60mm.
Y Post Concertina Razor Wire Plus 3D 358 Security Fencing
Complete High Security Fencing systems are made with 358 Welded Mesh Panels, Fence Posts and Gates and Concertina Coils Razor Wire. Popular forms of Razor Wire include: Single Line Barbed Wire Galvanized or Powder Coated, Single Coil of Razor Wire, Crossed Coil of Blade Type Razor Wire or Concertina, Flat Wrap Razor Wire. China 358 also supplies a rapid concertina deployment system (mobile aplication) to be able to expand and relocate the concertina multiple times. Concertina wire coils are widely used for security fencing of the army, pólice and emergency organizations.
The fence panels and gates are all made of thick steel wire heavily hot dipped galvanized or PVC coated.
358 security mesh fence made from a type of strong welded mesh panel with small mesh opening. It is extremely difficult to penetrate and difficult to attack using conventional hand tools. Has the features of anti-climbing and anti-cutting. The fence name 358 comes from its panel mesh opening 3" × 0.5" × 8 gauge - approximate to 76.2mm × 12.7mm × 4mm mesh opening.

358 mesh fence Features:
Anti-climbing: more small openings, no toe or finger holds.
Anti-cut: robust wire and welded joints make cutting very difficult by bolt cutters and wire cutters.
High strength welded at each intersection.
Durable: covering Galfan and polymer powder coating ensure a long service life.
Mesh fencing specially configured to provide maximum visibility, especially used for emergency and electronic detection systems.
Specifications:
Wire diameter: 4mm
Mesh Size: 76.2mm*12.7mm(3''*0.5'')
Horizontal wires:4mm diameter at 12.7mm centres
Vertical wires:4mm diameter at 76.2mm centres
Height:2.5m-4.0m
Width:2.0m-2.5m
358 high security fences are packaged in plastic film then stored and transported on wooden pallets. Each package is firmly attached to the pallet by a special type tape.
Application: as an anti-climb & anti-cut through barrier, 358 welded wire security fence is designed with maximum security in mind. It is ideally suitable for electronic alarm and detection systems, fencing in prisons, military sites, and airports, industrial and commercial properties, warehouses, power plants, laboratories, secure hospitals, schools, parks, leisure and recreational areas. 358 fence will give them a long lasting and secure perimeter protection with attractive appearance. Generally, 3.60m height fence is used in schools, parks, leisure and recreational areas, 5.20m height fence widely used in prison and military establishments.